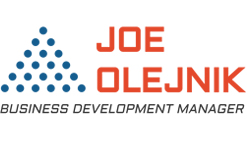 "Over the years it has been a pleasure to have business contact with Joe Olejnik. He is one of only a few individuals who is truly professional about their sales and marketing roles. His energetic, positive and genuine approach to developing relationships are key ingredients to his ongoing sales and marketing success."
John Dunleavy
Director
Intertrade Advisors
Fast track your business growth starting today…contact Joe Olejnik for an obligation free discussion.

Phone:
0429 050 475
About Joe
With almost two decades of business development expertise, Joe Olejnik is widely recognised as one of Australia's premier business growth consultants to innovative, high-growth Australian companies focused on dominating their industry. Large corporates, SME's and successful entrepreneurs all trust Joe for his practical advice, creative thinking and proven outcomes.
SHARE JOE'S CV
Do you know other companies that would benefit from working with Joe? Click the buttons below to share Joe's profile with other successful business owners & managers you know...